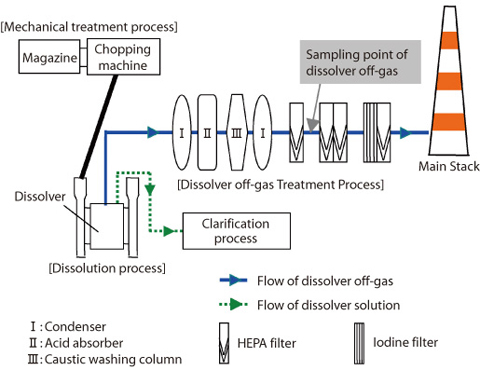 Fig.11-8 Outline of dissolver off-gas treatment process
Off-gas from three dissolvers passes through a condenser, acid absorber, caustic washing column and HEPA filter at Tokai Reprocessing Plant.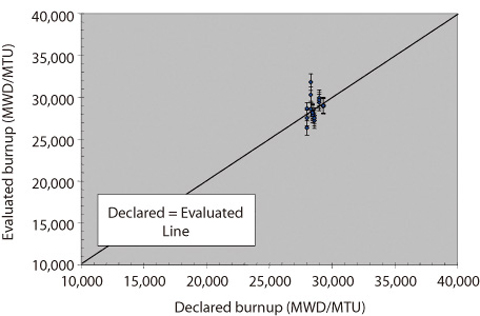 Fig.11-9 Evaluated burnup(based on 130Xe/ 134Xe, 131Xe/ 134Xe, and 132Xe/ 134Xe isotopic ratios) versus declared burnup
Table11-1 Plutonium amount derived from xenon isotopic ratios and concentration in dissolver off-gas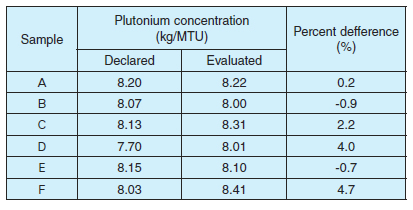 ---
It is well-known that xenon (Xe) isotopic ratio is correlated with spent fuel characteristics (such as fuel type and burnup) and generated amount of plutonium (Pu). Since dissolver off-gas, which is released with dissolution of spent fuel in reprocessing facility, contains most of the gaseous fission products, Xe isotopic ratios in the dissolver off-gas sampled from the stack would be expected to provide a new measurement method applicable to safeguards inspection.
In this work, the amount of Pu related to burnup in the spent fuel was evaluated from Xe isotopic ratio in dissolver off-gas at reprocessing facility.
Six batches of dissolver off-gas at spent fuel dissolution process were sampled from the main stack in Tokai Reprocessing Plant during BWR fuel reprocessing campaign (Fig.11-8). Xenon isotopic ratio was determined with gas chromatography/mass spectrometry.
Burnup and generated amount of Pu were evaluated with Noble Gas Environmental Monitoring Application code (NOVA), developed by Los Alamos National Laboratory.
Using 130Xe/134Xe,131Xe/134Xe and 132Xe/134Xe isotopic ratios, fuel type was specified to be BWR fuel for all samples.
The burnup evaluated by Xe isotopic ratios and NOVA were in good agreement with those of declared burnup in the range from -3.8% to 7.1% (Fig.11-9). Also, the evaluated amount of Pu in spent fuel was found to agree with those of the declared amount of Pu calculated by ORIGEN code (Table11-1).
The evaluation technique is applicable for both burnup credit to achieve efficient criticality control and a new measurement method for safeguards inspection.
---
<Previous: 11-3 | Next: 11-5 >
---