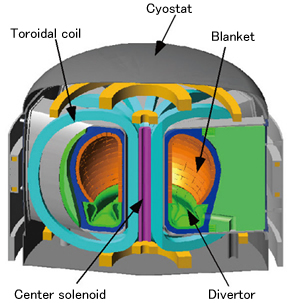 Fig.3-12 Conceptual view of Fusion DEMO reactor, which is designed to produce 1 GW of net electric output.

Fig.3-13 Comparison of superconducting coil system in
(a) the proposed DEMO reactor and (b) conventional tokamak reactor
(a) with a low aspect ratio has a coil system with very low magnetic energy, allowing such a thin coil support assembly.
---
Nuclear fusion is a promising innovative energy option for the future because of its superiority over safety and environmental aspects. On the other hand, a reduction of the construction cost is an important issue to be addressed for commercialization. We have developed a design for a fusion DEMO plant which can resolve the cost issue.
It is required that the fusion DEMO plant generate a commercial scale electric output of 1 GW. Additional missions of the DEMO plant are economic viability as well as operational reliability. To meet these requirements, we have been envisaging a DEMO reactor which has reduced size in comparison with conventional fusion power reactors (Fig.3-12). One of the most striking features of the reactor is that the electric output of 1 GW is attainable with the relatively conservative plasma technology foreseeable in the 2020's, despite its compactness. What allows such a reactor design is 1) a thin superconducting coil system producing high magnetic field, and 2) a low aspect ratio regime (corresponding to a fat plasma shape) which has not received attention so far because plasma experiments in this regime have been scarce. Based on recent progress in experimental and theoretical studies, a low aspect regime is likely to be adequate for advanced tokamak operation. Fig.3-13 shows a comparison of superconducting coil system of the proposed DEMO and a conventional tokamak reactor design. The coil system, which is usually the most expensive components of a fusion reactor, is very thin in this DEMO, so that there is significant cost reduction. Furthermore, low aspect ratio has the advantages of lowering requirements for plasma conditions, and mitigation of outboard blanket design conditions for blocking the electromagnetic forces acting on a disruption, etc.
Our evaluation indicates that this fusion reactor concept is basically viable and has good impact on cost reduction. The next challenge in the design study is to make the concept concrete by combining various fusion technologies being available in the near future.
---
---