About the Design of the Cover
The cover is designed with white hexagons similar to the pattern in a tortoise shell, an ancient Japanese symbol of people's wish for longer lives. Coincidentally, this shape is the same as that of core fuel assemblies for both the prototype fast breeder reactor "MONJU" and the high-temperature engineering test reactor "HTTR".
The images on the cover show overview of the JAEA Chart of the Nuclides 2014 (top left) and a map of ambient dose equivalent rates through the eighth vehicle-borne survey (bottom right).
The top left image shows the overview of JAEA Chart of the Nuclides 2014. We have constructed a folding (A4-size) nuclear chart, including the latest experimental (3150 points) and theoretical (1578 points) decay data for nuclear science experts and the general public (Chapter 3, Topic 3-7, p.47).
The bottom right image shows the an example of the map of ambient dose equivalent rates obtained using vehicle-borne surveys (June-August 2014). To make clear decreasing in ambient dose equivalent rate in Fukushima, they were compared and analyzed with other data obtained after the accident (Chapter 1, Topic 1-1, p.13).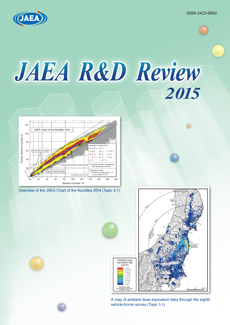 JAEA R&D Review 2015
---
Published by
Japan Atomic Energy Agency in February 2016
Editorial Board
Chief editor:Yasuhiro Yamaguchi
Editors:

Taiju Shibata, Yoshio Suzuki, Hirofumi Tomikawa, Yasuaki Miyamoto, Tadafumi Niizato,
Takeshi Takeda, Toshihiko Ohnuki, Takamasa Mori, Kenji Yamaguchi, Masataka Kado,
Yasuyuki Ishii, Kazuhiro Sawa, Hirofumi Ohashi, Hiroshi Takada, Nariaki Uto,
Yoshikazu Yamada, Hirotsugu Hamada, Akihiro Sakai, Chie Oda, Mitsuru Kikuchi
---
This publication is issued by Japan Atomic Energy Agency (JAEA) on a yearly basis.
Inquiries about availability and/or copyright of the contents in this publication should be addressed to Institutional Repository Section, Intellectual Resources Management and R&D Collaboration Department, Japan Atomic Energy Agency (JAEA).
Address:2-4 Shirakata, Tokai-mura, Naka-gun, Ibaraki-ken 319-1195, Japan
Phone:+81-29-282-6387, Facsimile:+81-29-282-5920,

All Rights Reserved by JAEA (c)2016
<Previous: Promotion of Collaboration
---