Fig.12-15 TIARA cyclotron
The magnet upper half is cut away to show the interior. Ions are accelerated by 2 dee-electrodes along a spiral path up to the maximum energy and extracted to the beam transport system by the deflector and other components.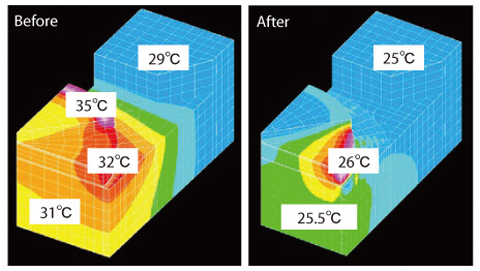 Fig.12-16 Temperature distributions
In one eighth of the cyclotron magnet; before installing (left side) and after installing (right side). Those were derived from calculation based on measured data. The initial temperature of 25°C is maintained after installing the control system.
Fig.12-17 Magnetic field change (left side) and beam intensity change (right side)
The difference before and after installing is shown. After installing the control system, beam intensity became remarkably steady along with the stabilized magnetic field.
---
The cyclotron at the ion-irradiation research facility, "TIARA" (Takasaki Ion Accelerators for Advanced Radiation Application), (Fig.12-15) provides ion beams for wide ranging research in biotechnology and materials science. A microbeam with a beam size on the order of μ m or less is expected to be very useful in these fields because of its micro- or nano-scale irradiation ability. However, cyclotrons generally have a problem with beam instability; specifically, beam intensity rapidly decreases shortly after start-up of the machine if there is no readjustment. Therefore, it has been difficult to tune the cyclotron precisely enough to obtain a high quality beam with a small energy spread, which is indispensable to micro-beam production.
Development of technology for cyclotron beam stabilization was started at "TIARA". Research for precise measurement of the magnetic field of the cyclotron even in an electrically noisy environment revealed that the cause of the beam instability was the change of the magnetic field due to temperature increase of the iron of the cyclotron magnet. It was also shown that the heat source was the coils of the magnet. A temperature control system, suppressing the heat flow from the coils and maintaining the yoke temperature, was developed. Fig.12-16 shows the temperature distribution of the magnet, confirming the system's performance. While the previous change of the magnetic field was more than 0.01 %, the temperature control system achieves the stability of the magnetic field within 0.001 %, the lowest value in the world, thus realizing constant beam intensity without readjustment (Fig.12-17).
---
<Previous: 12-6 | Next: 12-8 >
---