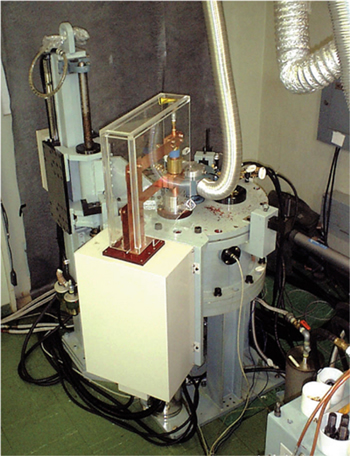 Fig.6-6 Mega-gravity generator(JAEA)
Introduced in the magazine Newton, Nov. 2004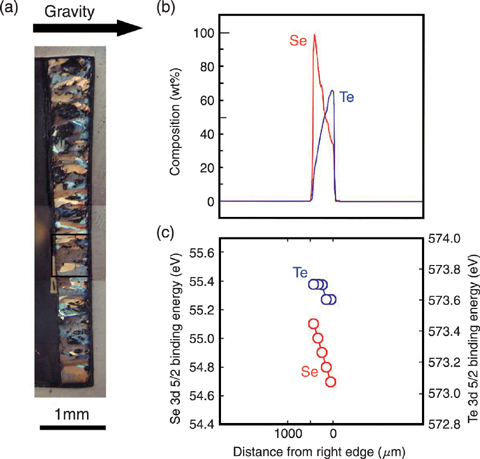 Fig.6-7
(a) Cross-section diagram of a Se-Te sample.
(b) Result of chemical composition analysis.
(c) Position dependence of 3d-electron binding energy suggesting a continuous modification of band-gap.
---
Under micro-gravity as in a space shuttle, it is possible to blend micro particles homogeneously together. On the other hand, under an extremely large gravity field of 1 million G, small differences between each atom play an important role for the atomic arrangement and for the interatomic diffusion. Our group focused our research interests on utilizing the extreme environment of mega-gravity as a new platform of the synthesis of novel functional materials (research into " Mega-gravitoronics" ), and for clarification of the unexplained mechanism of fast atomic sedimentation and diffusion under mega-gravity. Fig.6-6 shows our mega-gravity (MG) generator developed in collaboration with the Mashimo laboratory in Kumamoto university. Fig.6-7 shows an example of a novel functional material developed with selenium-tellurium (Se-Te) semiconductors. The Se-Te semiconductor is a continuous solid solution, and both constituent atoms blend well with each other in a entire range of relative concentrations. A homogenous Se-Te sample with a composition rate of 70:30 at% was subjected to the MG process, under 1.02 MG at 260°C for 100 h. It changed to an orientational crystal with a composition gradient structure (Fig.6-7(a)). The obtained sample has an atomic-scale composition gradient structure (Fig.6-7(b)), and its lattice constant continuously changes with the change of the composition ratio. As shown in Fig.6-7(c), the binding energy of 3d electron in a Se or Te atom is also continuously modified depending on the composition ratio (found in collaborative research with Kumamoto University). This suggests that we have made a novel material, which has a continuously changing band-gap width. We expect to establish a method of isotope centrifugal separation directly using atomic sedimentation by mega-gravitoronics in the future.
---
---