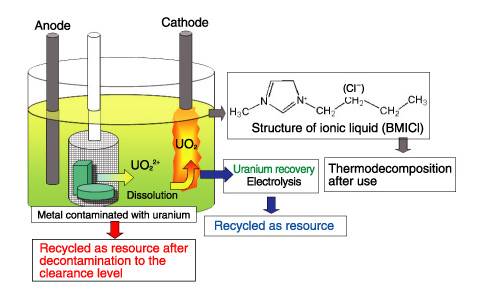 Fig.14-29 Outline of uranium recovery technique using ionic liquid
Uranium adhered to metal is removed to the clearance level, and uranium dissolved in ionic liquid is recovered by electrolysis.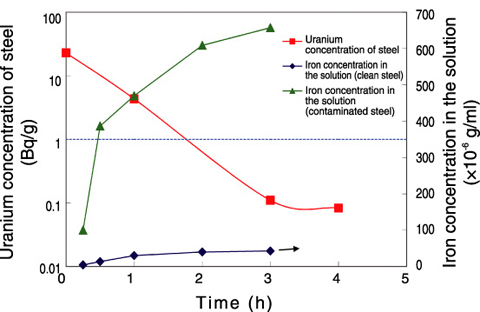 Fig.14-30 Plots of iron concentrations in ionic liquid and uranium concentrations in steels vs. time (100 °C, in air)
The uranium concentration of contaminated steel dropped below the assumed clearance level within 3 h and iron in clean steel could not be dissolved in ionic liquid.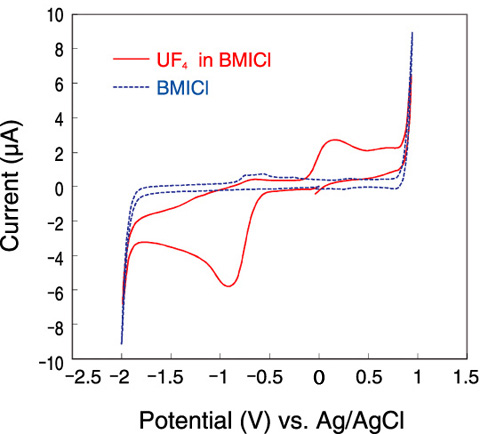 Fig.14-31 Cyclic voltammograms of the solution in BMICl (80 °C, in air)
One reduction peak of uranium was observed around -1 V, which shows that it is possible for uranium to be recovered by electrolysis.

---
Among nuclear fuel cycle facilities, sludge containing uranium, or piping, towers, and vessels whose interiors are contaminated with uranium, are generated in decommissioning and operation of uranium facilities, such as uranium enrichment or uranium conversion plants. Because these wastes contain a large quantity of uranium, if the uranium they contain is removed or recovered, the recovered uranium and decontaminated metal can be recycled effectively and the amount of uranium waste will be reduced considerably.
We selected an ionic liquid known to be an environmentally-conscious solvent (a green solvent) as a treatment medium, and investigated a technique for removing uranium from waste to the clearance level (the level at which decontaminated materials are not required to be treated as radioactive waste), and a technique for recovering uranium dissolved in ionic liquid by electrolysis. Fig.14-29 shows an outline of the process. Because ionic liquids are salts that consist of only ions and have properties such as a low melting point, nonvolatility, and high conductivity, it is hoped that they can be used as safe and high-performance electrolytes.
A large proportion of metals from uranium enrichment facilities are contaminated with uranium tetrafluoride (UF4). Dissolving steels having a surface contaminated with UF4 in 1-buthyl-3-methylimidazolium chloride (BMICl) at 100 °C has confirmed that the uranium concentration in them dropped below the assumed clearance level within 3 h, and thus BMICl is highly able to dissolve UF4 (Fig.14-30).
In addition, we confirmed a temporal change in the iron concentration in BMICl when clean steel and steel contaminated with UF4 are dipped in BMICl, and thus clarified that the iron of contaminated steel dissolves more easily than that of clean steel. Therefore, because it is possible to dissolve only the uranium corroded part of the contaminated steel in ionic liquid, it can be anticipated that secondary waste will be reduced, since there is little extra iron dissolution (Fig.14-30).
As a result of an examination of uranium redox behavior, it has been confirmed that uranium dissolved in ionic liquid is potentially recoverable as uranium oxide by electrolysis (Fig.14-31).
From the results mentioned above, we expect that uranium can be recovered from contaminated steels and that the steels can be recycled using BMICl as a medium. It is hoped that the results will be applied in each uranium facility as an efficient method for treating uranium waste.

---
<Previous: 14-11 | Next: 14-13 >
---