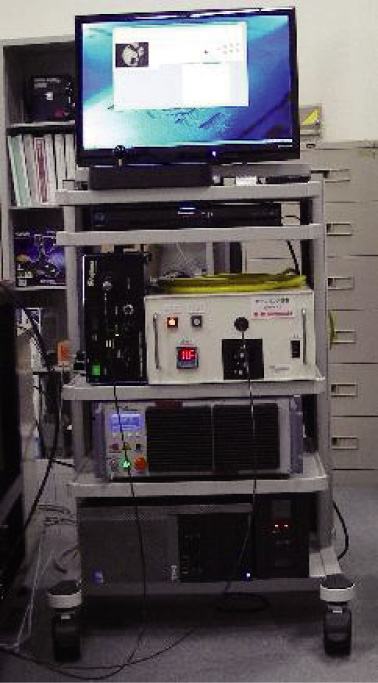 Fig.4-19 Control system
The control system was stowed in a small portable rack.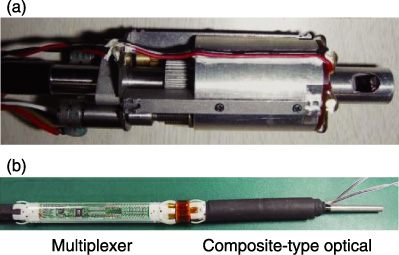 Fig.4-20
(a) Laser processing head
The laser processing head with a composite-type optical fiber scope can inspect 1-inch diameter heat exchanger tubes and repair cracks by laser welding.
(b) ECT coil sensor
The Eddy Current Testing (ECT) coil sensor mounted on a composite-type optical fiber cable can detect cracks on the inside wall of the 1-inch diameter heat exchanger tubes.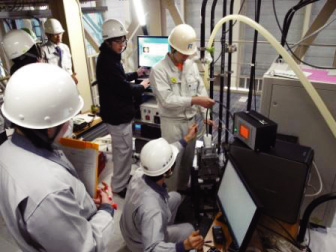 Fig.4-21 Demonstration of heat exchanger tube inspection and repair
The mock-up facility at Shiraki in Tsuruga city was used for the demonstration. The performance of the prototype was confirmed in a maintenance drill.

---
Sodium cooled Fast Breeder Reactors (FBRs) use water as a heat exchanger for steam generation. For this reason, countermeasures against water-corrosion deterioration of the heat exchanger tubes is very important. Especially at welding portions where frequent deformations are superimposed due to residual stress and thermal expansion, it is thought that cracks may occur along welding beads.
Japan Atomic Energy Agency (JAEA) developed a new probing system which makes it possible not only to inspect cracks on the inner tube wall but also to repair them at the same time. Three major technologies were successfully integrated: eddy current testing (ECT), a composite-type optical fiber scope, and laser processing. To put it in general terms, all that could be done previously was to plug the heat exchanger tube where any defect was detected. The new probing system can grant us the possibility to repair the heat exchanger tubes to extend their service life.
Fig.4-19 shows the appearance of the control system stowed in a small portable rack. The backbone of the probing system consists of a composite-type optical fiberscope which has a unique coaxial design. The fiberscope can deliver a high energy laser beam for welding along the center fiber, which is surrounded by thousands of image fibers. A laser processing head is connected at the end of the fiberscope, which is shown in Fig. 4-20. The laser processing head can attain 360 degree round-trip scanning of the inner wall of heat exchanger tubes with fine adjustment for the laser irradiation position. Just beside the laser processing head, an ECT multi-coil sensor is mounted on a composite-type optical fiber cable, which is shown in Fig.4-20. In addition, a CCD camera for image capture and a temperature monitor recorder for key optical components are included. In order to complete the system, a high energy ytterbium fiber laser is integrated into the control system rack as a tightly focused welding heat source.
To confirm the performance of the system, a maintenance demonstration for 1-inch diameter heat exchanger tubes was carried out in the mock-up facility of the Monju steam generator heat exchanger unit. Fig.4-21 shows the demonstration where both ECT inspection and laser welding repair for cracks in 1-inch heat exchanger tubes were carried out. This system can grant us new possibilities for wall maintenance in complex piping facilities such as chemical plants or steam boilers as well as atomic power stations. We will apply this technology to decontamination of scaling deposited on the inner wall of piping.
The present study includes the results of "Development of maintenance technologies with a new probe system for FBR heat exchanger tubes" entrusted to the Japan Atomic Energy Agency by the Ministry of Education, Culture, Sports, Science and Technology of Japan (MEXT).

---
---